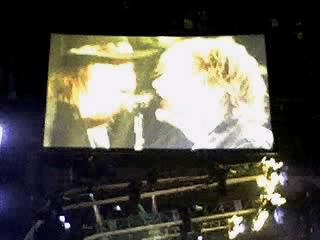 Richie on the left, Jon on the right...



I had to take this pic of the video screen because the lights on stage were too bright. But... they were singing "I'll Be There For You"...

Oh, and Jon was funny... he asked how many of us had heard things on tv and in tabloids lately... and to remember that there are 2 sides to every story. Then he sang a couple songs pretty much about how she is gone and things will be okay for Richie. It was cute... I guess he has been staying with Jon on weekends sometimes since all this shit happened.